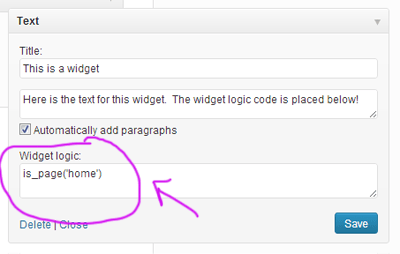 "Widget Logic" is an added plugin feature that allows you to further customize your widgets in your sidebar by telling them to only appear on certain pages. If your WordPress theme uses this then you will see the "Widget Logic" box below any widget that you install in your sidebar.
You will need to know how to properly edit this if you want to add a new widget to your sidebar.
In the example to the right, you can see a text widget. Below the widget is a box that says "Widget Logic" and the following code: is_page('home')
You can copy this code exactly, and will change the "home" to whatever page you wish the widget to appear on.