We always encourage clients set up their own hosting accounts as we believe you should always have direct control over your website – regardless if we part ways, etc. You can set up your own hosting account in 3 easy steps. Go to the Netfirms website and navigate to their hosting page: http://www.netfirms.ca/netfirms/web-hosting/
STEP #1. Under the "Plus Plan" – choose either 1, 2 or 3 year billing (note: the longer the billing period, the cheaper the price) and click the green "Sign Up Now" button.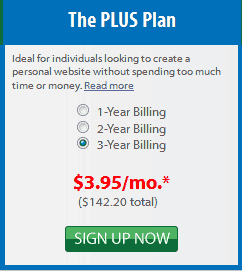 STEP #2. Chose your domain: Either enter your existing domain name, or register a new domain name in the search box. **note: Next you will be prompted to purchase additional services (the Advanced Site Protection and Performance Accelerator and Daily Backup will be checked by default). These are not necessary. Be sure to uncheck these 2 items as you don't need them (and they add an extra cost).
The "Add Domain Privacy" button is sometimes automatically checked – if this domain is for a business in which your contact information is already listed publicly, then we do not recommended this service.
STEP #3. Add your billing info and click "Check Out"
They will send you a welcome letter with your account details (user/password). Please forward this to me so I can access your account.