WordPress makes it easy to add images to your pages. Images can be used in your pages or your posts. Follow the steps below.
Open the page or post that you wish to add the image. Click the "Add Media" button.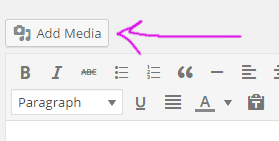 Choose a picture from your computer to upload.
Once the uploading/crunching process has completed, you will be given the option to edit some settings before inserting the image into the post/page. Only the Title option is required. Make the edits you wish and click "Insert into Page".
Title – Text displayed as a tooltip (when a mouse is hovered over the image)
Caption – Image caption displayed directly underneath the image (will also serve as the alternate text.)
Description – Text displayed with the image in your dashboard and attachment pages on your blog.
Next, click Insert into Page when you are done adjusting the image's settings.