Creating an email link is just the same as linking to any page on your website, or any URL. If you simply follow the 4 steps below, WordPress will automatically add in the code for you and create your email link.
Highlight the text you want to appear as the email link (see below example "chantal@inkdesign.ca"
While your text is highlighted, click the "add link" icon in the toolbar.
The Insert/Edit link box will pop up. In most cases, it will automatically add the link for you.  If it does not, type "mailto:" and then enter in the email address you wish to link to in the URL. Eg. "mailto:chantal@inkdesign.ca". This tells the link that it is an email address.
Click the blue "Add Link" button.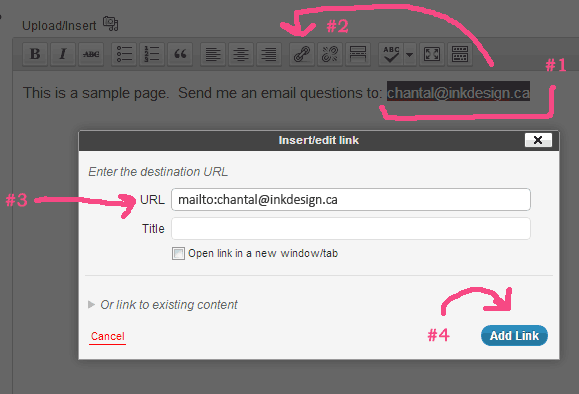 *note: in this case, you want to make sure the "Open link in new window/tab" is not checked.